A super tasty and super easy cheese appetizer! An extraordinary combination of salty feta, crispy phyllo, and sweet honey sauce, that will amaze you!
This feta cheese appetizer is a traditional starter that originates from the island of Crete and is a great match for any kind of main course – maybe not fish!
Ingredients 
250g feta cheese (9 ounces)
2 eggs
1 tsp of paprika
1 tsp of freshly ground pepper
70–80g of flour, enough to coat the feta (3 ounces)
60g sesame seeds
olive oil for frying
4 tbsps of honey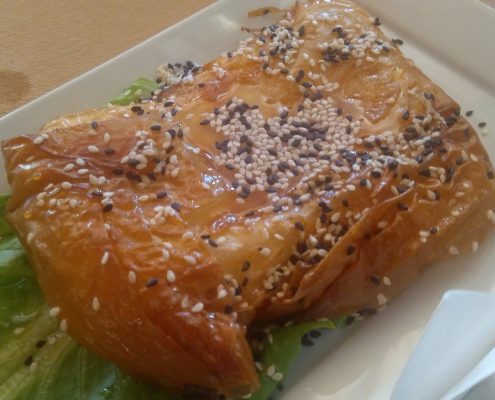 Instructions
To prepare the fried feta, start by cutting the feta cheese into little blocks, about 1,5cm thick.
Crack the eggs into a bowl and beat with a fork. Into another bowl add the flour, the paprika and the pepper and mix with a spoon, to combine the ingredients. Into a third bowl, add the sesame seeds.
Roll each piece of feta into the eggs, then roll into the flour. Roll each piece again into the eggs and then in the sesame seeds, so that all sides are covered.
Heat about 6-7 tbsps of olive oil into a frying pan, just enough to cover the bottom of the pan and fry the feta until nicely colored. Use a slotted spoon to flip the fried feta, so that it is nicely colored on all sides. When done, place on some kitchen paper to absorb the extra oil.
In the meantime, warm the honey into a saucepan, or the microwaves, until liquid.
Serve the fried feta while still hot with a drizzle of honey.