Which Greek Beer?
How Do Greeks Drink their Beer?
Greece is the country of ouzo, tsipouro, Cretan raki, excellent Greek wines, and Chios (island) masticha! But at the same time, there are about 120 craft beers "crafted" by microbreweries across mainland Greece and the islands.
For the Ancient Greeks wine was the "nectar of the gods" but the aristocrat ancient Greeks also loved a beer or two!
How Do Greeks Drink their Beer?
A warm beer (as served in the UK) does not exist in Greece! So when ordering a beer, most Greeks, in their home towns, will ask the waiter to bring the coldest beer in the fridge. You will rarely find a Greek getting drunk with beer. The beer will accompany meat and souvlaki dishes. Greek consumers prefer to buy Greek-made products in a show of support for local businesses.
So until recently, it was all about Mythos, Alfa, FIX which as they became popular the big foreign companies stepped in and bought them. But now the Greeks are gradually moving away from these brands exploring smaller less well-known beers.
Greeks will not get drunk with beer which is considered a refreshment. And, they will not drink much beer at home but most of the time at restaurants the bars, and the beach.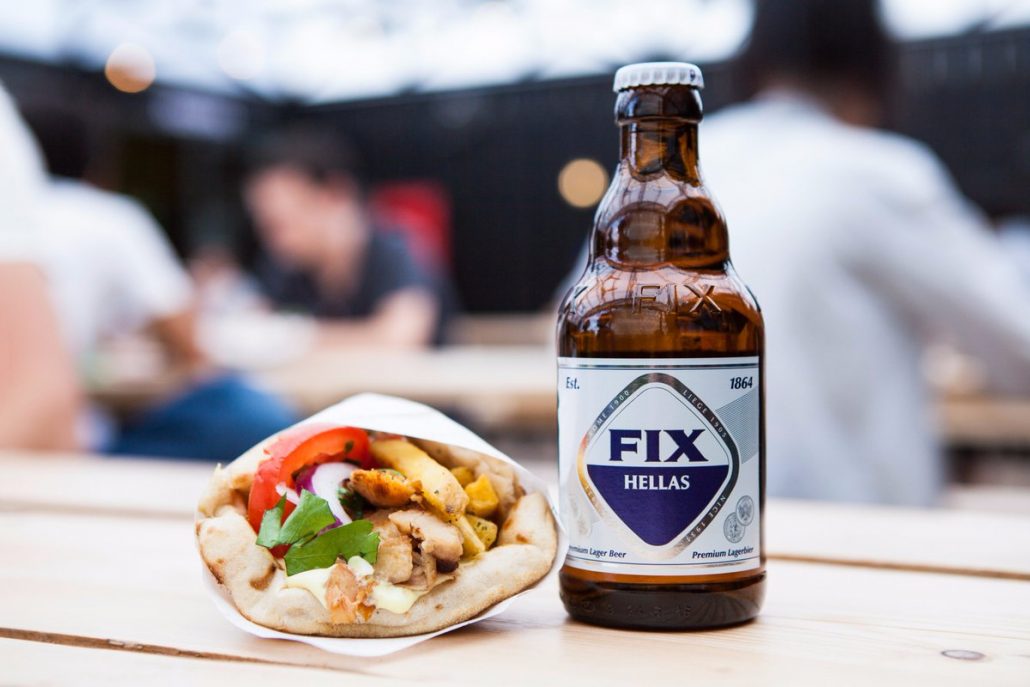 Beers in the islands
Island: Tinos – Brand: NISSOS Craft Beer
Paros – 56 Isles
Chios – Chios Beer Dyo Fili, Smoked Robust Porter, Chios beer BBQ
Rhodes – Zythos Vap and Magnus Lager Knights Beer
Santorini – Crazy Donkey and Volkan
Kefalonia – Kefalonian Beer
Folegandros – Katsika (Named after the local goats)
Lesvos – Nissiopi and Sedusa
Crete – Brink's, Lyra Handcrafted beer, and Charma beer
Μykonos – Mikonu craft
Beers on the mainland
Area: Katerini  – Brand: Olympos Beer (The beer of the Gods)
Thessaloniki – Thita & Zita
Sparta – Sparta lager
Stemnitsa – Menalon Beer (Named after the Arcadia mountain range)
Kalamata – Sura ale
Mani – Nema, and Neda (Named after the river in the Messinia region)
Serres – Voreia (Pilsner, Summer Ale, Wit Beer, Stout Beer)
Argos – Zeos
Larissa – Lola beer
Thessaloniki – Sknipa (It means "drunk")